When it comes to home decor, you can't go wrong with light neutrals. Shades like light grey, beige, or even plain white can all bounce the light around making any space look bigger or brighter- plus the colors work with any style of decor. In my vast rental experience, landlords love painting their properties this way as it appeals to the most amount of tenants, allowing them to get people in and renting their places as quickly as possible. However, while there are great benefits to a neutral, blank canvas- it can feel very impersonal and can take a bit of sprucing up to make it feel like YOUR home.
Here are some of the ways you can liven up a rental without changing those neutral walls and flooring…
Add Wall Decoration
Landlords can be funny about their tenants putting holes in the walls, so it's worth speaking to them first and getting permission. (If you're not allowed to make holes, you can always use command hooks.) You could hang anything from a piece of art that you've carefully selected to a gallery wall made up of framed prints that you switch up every few months. Either way, wall decor is an easy way to add personality to a room without paint or wallpaper. Round out the look with a statement clock and a mirror, these will also break up the bland walls but they're of course functional, too!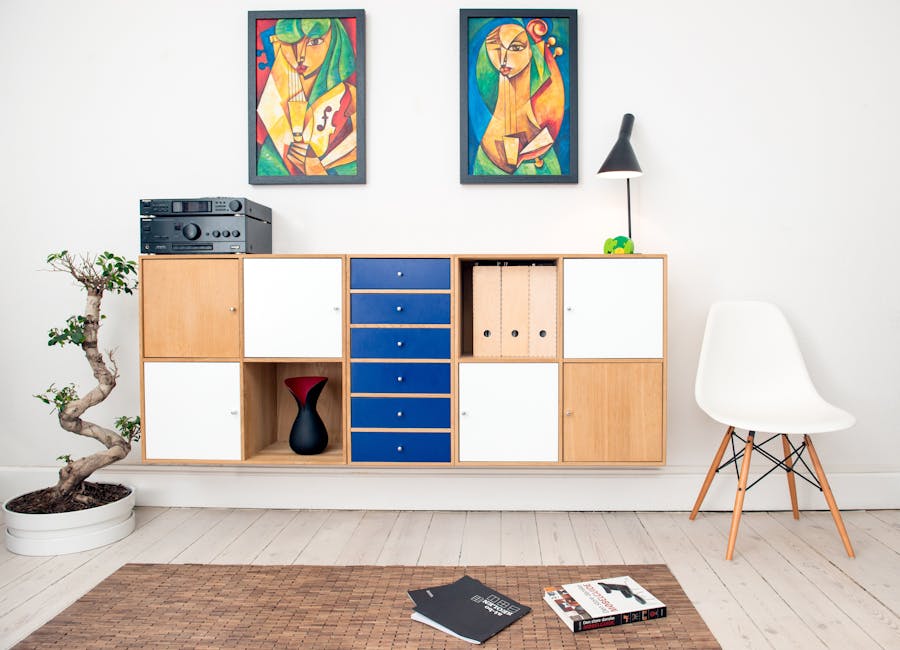 Choose Statement Furniture
When the rest of your decor is  plain, you have the freedom to be a bit more adventurous with other items and your furniture is one place you can go wild. How about choosing a statement coffee table, or upcycling your tv unit or sideboard for a unique look? A plain sofa might be best as it's an investment piece that will need to stand the test of time. But pair it with a brightly colored or patterned chair or a funky footstool. Choose one or two key pieces to stand out and go with bold and unusual styles. A fantastic way to show off your personality!
Think About Lighting
Lighting is something that's often overlooked and left as an afterthought when it comes to decor, but it shouldn't be. Lighting is such an important element, and it's another way you can inject a little extra personality into the room. It could be anything from a chandelier to an industrial looking fitting with exposed bulbs. And don't forget to add lamps! If you purchase smart bulbs, you can adjust the brightness and warmth of any room's glow right from your phone. Plus, colorful or interesting lamp bases, shades, or both can bring in a little extra something to a room that's decorated in neutral colors.
Consider Accessories
Your accessories are what will bring the room together, show your style and allow your personality to come through. Add cozy cushions and throws to spruce up sofas, chairs and beds. Patterned or colored rugs to make floors feel more comfortable and to tie rooms together. Let your interests and hobbies shine through! Whether that includes a place to display your geode collection, a Viking axe hung on the wall, or a beautifully aquascaped aquarium! Don't just choose things for the sake of it, instead have a good think about not only what will work well in the space but what really reflects YOU. Your home should be a curation of the things that you love. Just remember – it's quality over quantity when it comes to things out on display.
Add Plants
Any home (whether a rental or not) will benefit from the addition of plants! Not only does the color and texture liven up a home but they've even been shown to boost mood. You could go with some larger standing varieties in pots, a few mini cactus, smaller plants on tables and desks, and hanging plants. If you're bad at keeping plants alive, go for low maintenance varieties, or there's even some rather realistic-looking faux varieties on the market these days. Vases of flowers are another option. You can buy bunches from supermarkets very cheaply, and they will brighten your home for days! Plus, it's a fun way to treat yourself. 
How have you spruced up a neutral rental without upsetting your landlord?!